It has been 24 years since the first line of Taipei metro was built in 1996. There were only 40 thousand passengers taking the metro in a day initially, and now the daily number has climbed up to 2.16 million people. The metro system has gradually shaped the way people live in this metropolis. It plays an important role in the daily life of the residence and the exploration of travelers.
There is some information for you to digest before you walk into this urban jungle. Read it and enjoy your exploration!
1. Before you enter the gate of the metro:
Make sure you have already got an Easy card or bought a transportation ticket (Taipei Fun Pass).
You probably wonder which one is suitable for you. Well, if you want to stay in Taipei for 1~5 days with high frequency of of taking public transportation and the ticket price is worth of the fee, then Fun Pass can be your option; if you want to stay longer and you don't like plans for your stay, then you can get an Easy card.
Where to get Taipei Fun Pass?
You can buy a Taipei Fun Pass here
Where to get Easy card?
You can find them in 7-11, Familyport and Metro station.
2. Find your destination on the map
Find your destination on the map and see if you need to stop at the transfer station to change line, then you can get to your Taipei tourist attractions.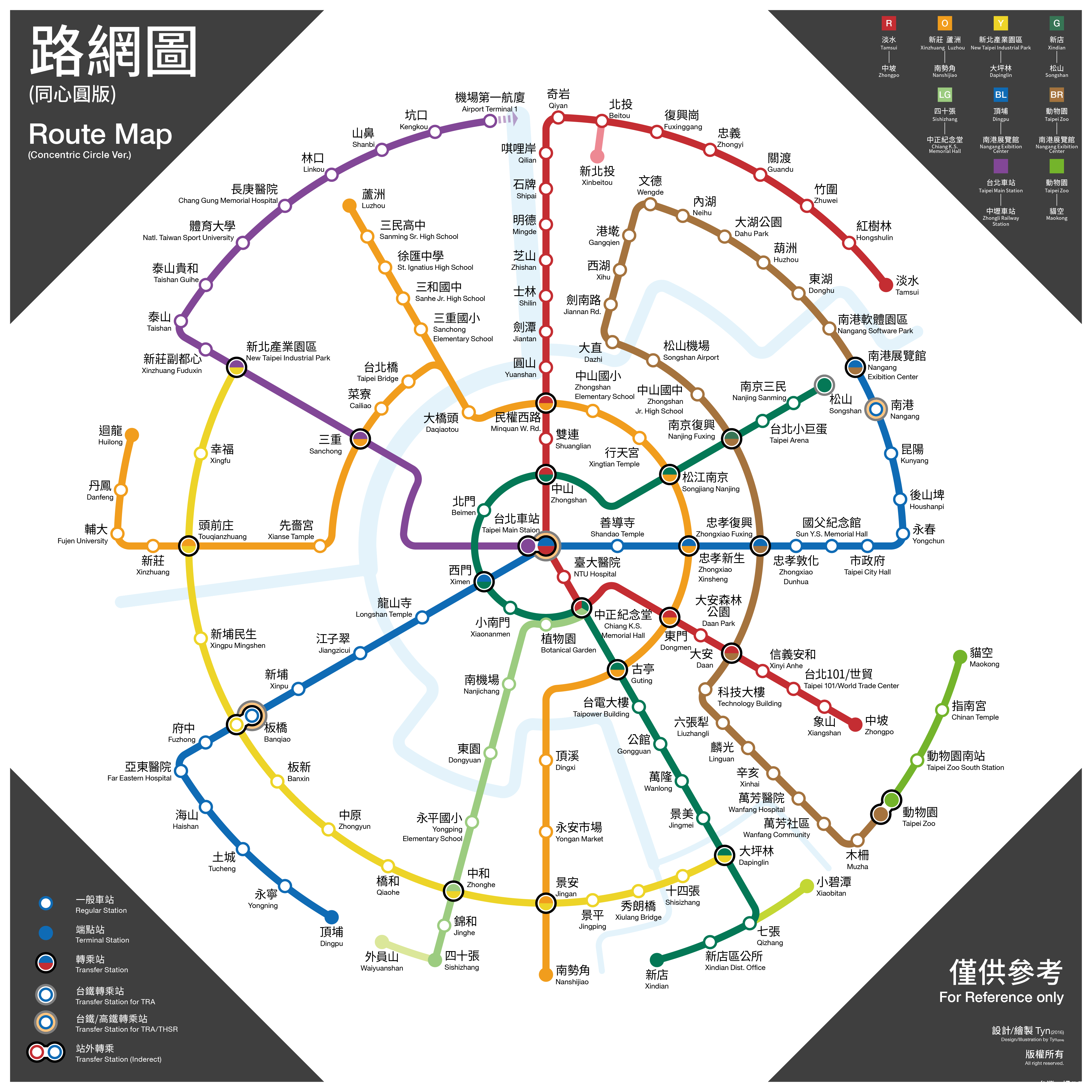 Does the map in the station make you confused? You can try to read the version of concentric circles. It shows the transfer stations clearly without different lines tangling together.
However, this map doesn't indicate the real direction of the routine.
See more: Taipei Tour-Where can you go in Taipei?
How about a Taipei temple tour?
3.When you arrive at the station of your destination
You will probably want to read the maps on the walls in the station. Unfortunately, the maps can be perplexing because the north isn't always on the top. (It is a really big bug in the metro system. Everyone is complaining but no one is trying to fix that.)
So as a local, I would suggest you double-check the direction with Google map.
Don't worry if you forget to take your cellphone with you or be disconnected from the internet. You can ask Taiwanese for help, we would love to give you a hand.
4. Where can I find lockers?
Routine
Station/Location
Exit
Red Line
Tamsui Station
1&2
Red Line
Taipei Main Station
M3
Red Line
Zhongshan Underground Mall
R1
Red Line
Dongmen Station
5
Red Line
Taipei 101 Station
4
Red Line
Beitou Station
1
Red Line
Xinbeitou Station
1
Red Line
Shilin Station
1
Red Line
Jiantan Station
1
Red Line
Yuanshan Station
2
Red Line
CKS Memorial Hall Station
6
Red Line
Zhongshan Station
1
Red Line
Xiangshan Station
2
Red Line
Daan Park Station
5
Green Line
Beimen Station
aisle to airport MRT
Green Line
Ximen Station
2&5
Green Line
Gongguan Station
2
Green Line
Xindian Station
1
Green Line
Zhongshan Station
1
Blue Line
Sun Yat-Sen Memorial Hall Station
2
Blue Line
East Metro Mall
14
Blue Line
Banchiao Station
3A
Blue Line
Zonungxiao Fuxing Station
3F
Blue Line
Nangang Exhibition Center Station
2A
Blue Line
Fuzhong Station
2
Blue Line
Xinbu Station
4
Blue Line
Zongxiao Dunhua Station
5
Orange Line
Sanchung Station
1
Orange Line
Dongmen Station
5
Brown Line
Taipei Zoo Station
1
Brown Line
Zoungxiao Fuxing Station
3F
5. Can I enter the stations with a bicycle?
The following picture shows the bicycle-accessible station.
Cyclists can enter the station on the weekdays from 10 to 16(The access is opened on holidays and weekends all day long)
Inaccessible stations: All the stations of brown line and circle line. Tamsui, Taipei station, Zhōngshān
6. Can I bring surfing boards into the station?
Surfboards between 165 and 180cm long are admitted on the Taipei Metro during public holidays. Passengers traveling with surfboard must observe the following regulations:
Tail rudders, foot ropes, and other protruding items must be kept clean, removed and stowed away during the journey,
The boards must not come into contact with other passengers, train ceilings, or other facilities. Passengers with surfboards may only take the stairs or elevator, not escalators, and should travel on the first and the last carriages only.
7. Apps for Taipei Metro
You can download "Go!Taipei Metro" The app provides a Taipei Metro route map, station exit information, transfer information and a journey planner. The interface launches on the Metro map, from where you can click into the station you wish to look up.
8. Special Service In React To Coronavirus Pandemic
Now if you are waiting for the train in the station, the screen on the platform will tell you if it is crowded in each carriage. You can find a less crowded carriage or just take the next train. After all, it is crucial to keep the social distance.