Taiwan is the heart of Asia, and Taipei, is the heart in the heart. For a capital city (it should be "Taipei City", but generally the so-called "Taipei" includes "Taipei City" and "New Taipei City"). Taipei is super tiny, but! That's why people love it: accessible to everywhere. You can spend either one day, two days, even more than a week here in Taipei; there are always bunch of possibilities in Taipei day tour packages.
Taipei has been selected as the best city for expats to live and work in 2019 by a world's largest expat networks, InterNations. Before we start our introduction to the ultimate choice of Taipei day tour, we must let you understand that how care-free is to travel in Taipei. For example, Taiwan has the best healthcare system in the world. If you get sick here, even as a foreigner, you still can receive good-quality care in a cheap price. Another world number one is our convenient store! We have the highest density of convenient stores covering entire Taiwan, especially in Taipei.
Taipei contains lush mountains, striking coastlines, breathtaking waterfalls, historic temple architectures, nostalgic old streets, relaxing hot springs, mouthwatering night markets, iconic buildings, vivid night life and those hidden gems around Taipei. Now! Let's see what Justaiwantour's 10 Best Taipei Day Tour Route:)
Table of Contents
Taipei Day Trips to the South
Taipei Day Trips to the North
Taipei Day Trips to the East
Taipei Day Trips to the West
Other Information
Travelers' Entry and Quarantine Measures for COVID-19 Prevention in Taiwan
Updated Jun 23, 2022
Central Epidemic Command Center(CECC) in Taiwan has gradually eased border controls and shortened quarantine days from June 15, 2022. After the day of arrival (Day 0), travelers need to take a three-day home quarantine and four-day self-initiated epidemic prevention. Masks must be worn at all times when outside and social distancing must be maintained. In the initial stage, the maximum limit is 25,000 arrivals per week. You can enter Taiwan with the approved entry permit or visa. Such as a foreign spouse or relative to a Taiwanese citizen, traveling for business, or enrolling in a university in Taiwan. Arrivals must present a COVID-19 PCR test result within two days before their scheduled flight to Taiwan. PCR testing (Deep-throat saliva samples) will be collected from arrivals for PCR testing at the airport/port on the day of arrival.

Taipei Day Trips to the South
1. Taipei 101 & Xiangshan
It's almost a cliché but we still have to mention this Taiwan's once highest building in the world – Taipei 101. As a landmark of Taipei, located in Xinyi District with several department stores and night clubs there. You can spend all night there, to last your Taipei day tour a bit longer.
For tourists who may visit Taipei 101 once in the lifetime, it is an icon of Taipei; but for Taipei citizens who encounter this 509.2 meters tall building every day, we see it another way. On the top of the Taipei 101, the light is telling the locals what day is today by rainbow colors. 7 colors are red, orange, yellow, green, blue, indigo and violet, represents Monday, Tuesday, Wednesday, Thursday, Friday, Saturday and Sunday.
Going on the observation desk is a must-go in Taipei day tour. However, if you are traveling with tight budget, there's an alternative plan (which is free). The view on Xiangshan (Elephant Mountain) is spectacular as well, most importantly the level of hike is super easy! Taking a glimpse of entire Taipei basin here rivals to going on the 89th floor-observatory.
How to get there
The easiest way to go Taipei 101 is taking the MRT to the TAIPEI 101 station,exit 4 by the Xinyi line or to the City Hall station, about 10 minutes walk from exit 2 by the Bannan line.
There are 3 entries can get to Xiangshan trail and most people will choice to take the MRT to the Xiangshan station, about 10 minutes walk from exit 2 to get the entry of the trail.
Recommended Taipei day tour: Taipei Must-visit Spots Private Day Tour
2. Gongguan
Gongguan is a night market in Taipei right between National Taiwan University and National Taiwan Normal University. Besides college students, this area also attracted many folks other than tourists. In weekends there are flea markets as well; let's see what we have here in Gongguan
Treasure Hill Artist Village used to be a military dependent village, originally an illegal settlement and was founded by the Kuomintang military veterans at the end of the 1940s. By the 1960s and 1970s, this area was regarded as illegal makeshift housing arrangements.
After years of negotiations and finally cooperating with non-governmental organization Global Artivists Participation Project, the Taipei City Government developed the area into an example of environmentally sustainable urban community. In 2006, The New York Times published an article, "For the opposite of such advanced architecture, take a taxi to Treasure Hill, a grassy neighborhood of illegal dwellings that Taipei's Culture Department is starting to transform into an arts district. Its epicenter is the lovely Treasure Hive cafe, 3, Alley 16, Lane 230, Dingzhou Road, Section 3, which holds weekly outdoor concerts," written by Matt Gross.
There is a hotel, offering guests a great opportunity to deeply explore the Treasure Hill settlement during their stay, and to interact with local residents, the resident artists of Treasure Hill and the general public.
THE WALL MUSIC was founded in 2003 as an adventurous gamble by a few individuals who really cared about music, and now it has grown to become an iconic spot for music-lover gathering. Some world class indie and electronic bands are playing here, as well as some top underground Asian bands. You can visit here to see what's coming up.
How to get there
Taking the MRT to Gongguan Station, which makes it both easy to travel to and from. If you are visiting the area, the Taipei Metro is a wonderful option for tourists as it can take you around Taipei with ease and it is also an inexpensive way to travel in the area.
Taipei Day Trips to the North
3. Yangmingshan
When it comes to spending a day in Taipei for a Taipei day tour, you will never miss the iconic mountain right next to Taipei Basin. Yangmingshan usually refers to Yangmingshan National Park, it is a dormant volcano mountain located between Taipei and New Taipei City. The national park is covering Taipei City's Beitou and Shilin Districts; and New Taipei City's Wanli, Jinshan and Sanzhi Districts. Yangmingshan is famous for blossoms (Plum, Cherry, Peach, Calla Lily and Hydrangea), hot springs, volcanic scenery and hiking trails.
(1) Xiaoyoukeng
Xiaoyoukeng is a post-volcanic geological landscape area and is approximately 805 meters above sea level and is famed for the fumaroles, sulfur crystals, hot springs and spectacular "landslide terrain" formed by post-volcanic activity. One of the most popular tourist attraction in Taipei which is highly recommended by Taiwan tour guide!
(2) Zhuzihu (bamboo lake)
Zhuzihu is well known for its field of white calla lily flowers, which are at full bloom from March to May. At that time, the field of pure white calla flowers will draw your eyes away from the distant mountain views while you walk in the Zhuzihu Scenic Spot. Occasionally, you can find calla lily flower-related events being held at Zhuzihu Scenic Spot, such as Calla Lily Festival.
(3) Qingtiangang Grassland
Walking down the Qingtiangang Grassland Trail, you will see the misty landscape from Yangmingshan. The panoramic view of mountain and grassland may make visitors miss when you have wanderlust at work. Because of the ranch of cattle was here under Japanese rule, you may find the cows here now.
The trail is an ancient path that connects Jingshan to Shilin. It was the main road for the fishermen to transport fresh fishery. That's why it is also called Yú – lù (Yú in Mandarin means fish). During World War II, most of the daily necessities were under the government's control, which stimulated the fishery smuggling. There were more and more people carrying fishery on the Jingbaoli trail. To avoid the cops, fishermen walked at night and hide the fish at the cottages near the trail.
How to get there
Since there are many places that you can visit in Yagmingshan, depending on which spot that you want to go and where you from. You can choice to buy the Taipei Unlimited Fun Pass to take the MRT or bus to most of the main stops on Yangmingshan, or you can follow the below recommended tour which you can go there by professional guide tour.
Recommended Taipei day tour: Yangmingshan Hiking & Hot Spring Luxury Private Tour
4. Beitou
At the foot of Yangmingshan, Beitou is a whole new world within Taipei City, Taiwan, which you should definitely include in your Taipei day tour. Beitou is not only known for its hot springs and all kinds of Japanese style heritages, compares to Tamsui is filled with western vibes. Date back to 17th century, the Dutch people in Taiwan regarded the hot spring as poisonous water, because the fish and shrimps can't survive in the hot water with sulfur gas. But during Japanese occupation (1895-1945), Beitou hot springs have amazed the Japanese by healing the injured soldiers.
(1) Thermal Valley
Thermal Valley is one of the sources supplying the area's hot springs. The sulfuric steam that blankets the valley year-round gives the valley a frightening quality, giving rise to nicknames like "Ghost Lake."
(2) Beitou Library (Taipei Public Library Beitou Branch)
An eco-friendly complex with only wood, steel, and other recyclable materials used in its construction. The space is carpeted in green shade, making a day immersed in the glories of the book, a quiet, pleasant gem indeed. A perfect place for Taipei Day Tour and things to do in Taiwan with kids!
(1) Hot Spring
There are tons of Hot Spring hotels in Beitou; to have a luxurious experience, you can choose to rest in a hot spring hotel. In there you can enjoy private hot spring in your hotel room, or public one with different temperature and massages options. Despite all that, if you only have a tight budget, there are also lots of outdoor public hot springs place (but for sanitary reason, we highly recommend you to stay in hotel's public hot springs).
(2) Boiled Hot Spring Egg
Since government has banned boiling in the hot water of Thermal Valley, there is only one place left to enjoy this interesting activity. Provided by a private hotel, "Spa Spring Resort", you have to buy their eggs (2 for NT.30) to use this facility. The instruction on the board written that: boil 5 mins for a non-boiled, 6 mins for a soft boiled egg and 8 mins for a hard-boiled egg.
How to get there
If you are in Taipei city, you can take the MRT to Beitou station and transfer to Xinbeitou station by Danshui line.
Recommended Taipei day tour: First UBER Ever – Local Beitou Walking Tour
5. National Palace Museum
Most of the foreign travelers have been to National Palace Museum. If you don't want to miss any of the exhibitions, Taipei day tour is not enough for you! Being one of the most popular tourist attraction in Taipei, National Palace Museum contains the Song, Yuan, Ming, and Qing dynasty artifact collection. There are three treasures you must see in National Palace Museum: Jadeite Cabbage, Meat-shaped Stone and Mao-kung Ting. (Read more: The Treasures in the National Palace Museum)
After a full day visiting, with sore legs and tired feet, it's likely that you haven't seen all the dazzling collections in the exhibitions. Even if you have viewed all the exhibitions at a fast pace, what you have seen is just the tip of an iceberg. About 90 percent of the treasures, including the treasures that have never been revealed to the public, are stored in hidden warehouses of the mountain cave. (Read more: The Secret of National Palace Museum)
How to get there
Taking the MRT to Shilin Station, head out Exit 1 to Zhongzheng Rd and catch the R30 (red 30), minibus 18 or 19, or bus 255, 304 or 815 to National Palace Museum stop.


Recommended tour: 6H Taipei Layover
6. Jinshan
Shuiwei Fishing Harbor & Mysterious Coast
Mystery Coast is connected between Shuiwei Fishing Harbor and Shitoushan Park. The name Mysterious Coast came from the area was a restricted area for military use. It was opened to public just a few years ago and became a popular destination by locals due to the 2016 movie "Silence" directed by Martin Scorsese used it as one of the scenes in the movie.
Jinshan Old Street, also known as Jinbaoli Old Street, was a bustling commercial street in the Qing period. Dating back over 300 years, it is the oldest street in Jinshan. A variety of other specialty dishes can be enjoyed here. Duck meat, fried pork, oyster crisps, taro cake, and roasted red heart sweet potato. It is what just satisfied your Taiwan food tour!
How to get there
From Taipei Station, transfer Kuo-Kuang Bus 1815 (bound for Jinshan) to Jinshan District Office stop.
Recommended Taipei day tour:
Yehliu, Zen Meditation, "Silence" Movie Filming Scene Day Tour
7. Yehliu Geopark
One of the popular landmark in northern Taiwan, Yehliu Geopark is home to a number of unique geological formations including the iconic "Queen's Head" (女王頭), and is located along a cape stretching out from the town of Wanli.
After seeing the queen's head, you should head out to the Guihou Fish Market, one of the best seafood markets in Taipei area.


There are a great number of restaurants showcasing a variety of seafood for customers to pick up outside. Once customers tell a waiter or waitress the number of seafood they want, they provide the service of cooking the chosen ingredients as favorite cuisine.

Also, there's a Guihou Fish Market (龜吼漁夫市集) that gather many fisher booths vending seafood they just catch: crabs, cuttlefish, squids, fish, you name it. Some also make it as fresh sashimi (刺身), so taking a Taipei private tour here, why not just relax, sit down and feast on seafood nearby the ocean.

How to get there
Take Danshui Bus #862 / #716 from Danshui MRT, and get off at Guihou Harbor Station; or take Kuokuang Bus 1815 from Taipei main station, get off at Feicuiwan (literally means the "Green Bay"), and walk for 10 minutes to reach the destination.
8. Laomei Green Reef
If you have been to or heard of Matcha Mountain, you must have known this Matcha Curtain – Laomei Green Reef! Being listed by CNN on its "Taiwan's most beautiful places", Laomei Reef is actually a volcanic eruption ten thousand years ago. The northeast monsoon leaves the spores of algae to the trench-like reef, which is the perfect shelter for the algae to live. When the spring comes, the warm wind blows the spores into growing, helping to form the verdant carpet that attracts crowds flock to the seashore every year from March to May. You must not be willing to miss this best-selling attraction of Taipei day tour!
How to get there
From Taipei Station, transfer Taipei MRT to Tamsui Station, transfer to Tamsui Bus 862 or 863 (bound for Keelung) to Laomei stop.
Recommended Taipei day tour: Yehliu, Laomei & Jiufen Private Day Tour
9. Tamsui & Fisherman's Wharf
The Tamsui Fisherman's Wharf is well known for its beautiful sunsets, seafood, and, more recently with young people, its high amount of party boats.
you can easily take the red line MRT to the terminal stop. Walk to outside of the exit, you can first stop at the Tamsui old street and enjoy the street food by the river bank. Also, you can take a ferry on the pier and have a fun way to see the beautiful view between Tamsui and Bali.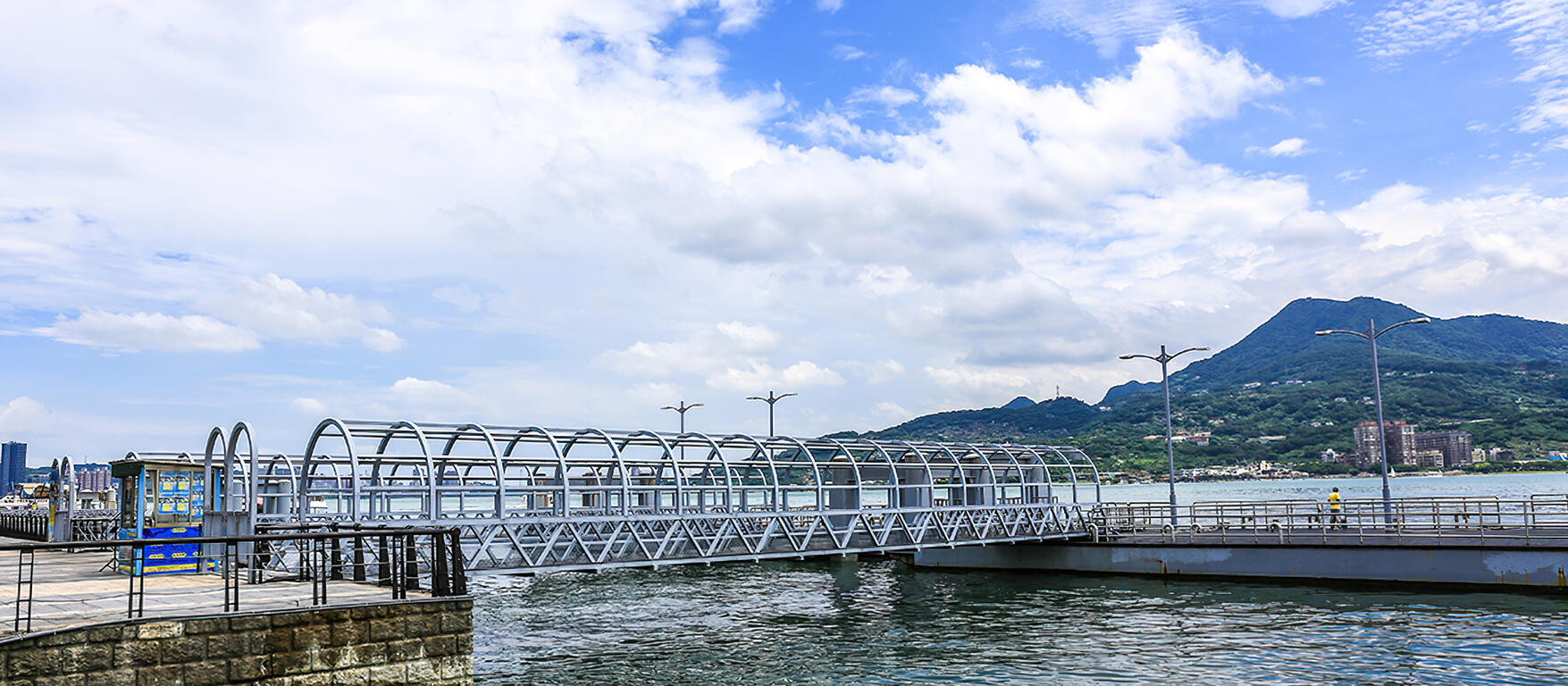 How to get there
Taking the MRT to Tamsui Station by the red line.
Taipei Day Trips to the East
10. Shengkeng Old Street
Surrounded by the mountains, embraced by the river, Shengkeng, the smallest township in Taiwan teases the appetite of gourmet with the Taiwanese classic but internationally controversial street food-stinky tofu. Though the place may sound notorious for certain people, but let's put the prejudice aside, and start to know this place from a scratch.
Shengkeng Old Street was roughly formed around 18th century. It was a must-pass land to travel between Taipei and Yilan, also an important transfer station for the vessel. Due to the location, there naturally formed a market selling tea and dye.
The street was originally two meters wide. In 1915, the Japanese colonial government carried out a new urban plan to broaden the street and shape the buildings on the both side into street houses with arcades, which is now the most iconic scene of Shengkeng. The facade features southern Fujian red brick and baroque carving decorations.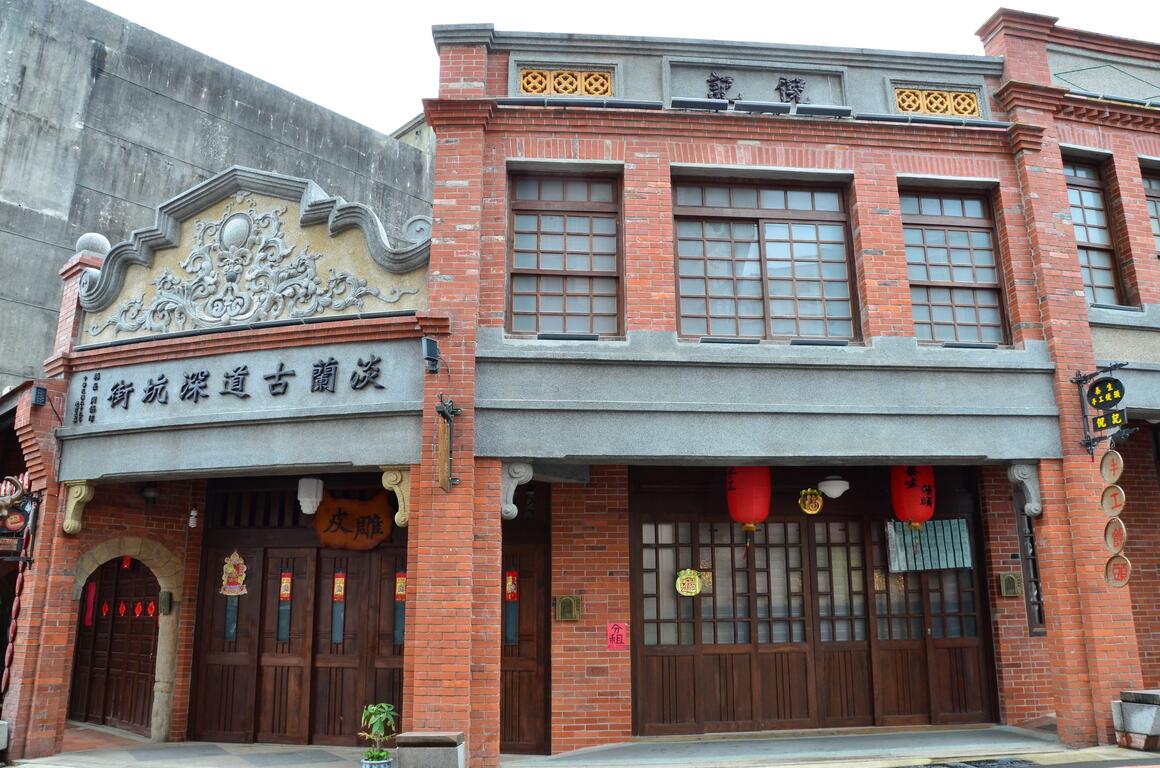 When you go to the Shengkeng Old Street, there are so many foods for you to try. The must-try one is the stinky Tofu.
How to get there
Take MRT to Muzha station by BR line, and then take taxi to Shenkeng Old Street.
11. Ruifang & Pingxi District
Ruifang & Pingxi District are the hot spot of historical sites, unique Taiwanese culture, local street foods and all those nostalgic vibes. For having merely one day to spend in Taipei, one of the first choice for tourists' Taiwan tour is here!
(1) Jiufen Old Street
Jiufen is a unique immigrant isolated village in the mountains in the Qing dynasty. When Taiwan was under Japanese rule, there was a gold rush in Jiufen. This place is also famous for taro ball, fish ball, and rice cake. If tourists are tired after walking so long, you can rest in the tea house to taste the delicacies of Jiufen.
(2) Jinguashi
Right next to Jiufen, Jinguashi is known for Goldlore Museum and all that mining history. Dating back to 1890, gold was discovered in the Keelung river. During the Japanese colonization in 1895, they soon took control of the mines and banning locals from owning any of them (mines). Since then, the Japanese found more copper and gold seams in Jinguashi, becoming the top gold mine in the Japanese empire.
During WWII, 1,100 Allied Prisoners of War served time at the infamous Kinkaseki camp and copper mine, the Kinkaseki POW Camp was just located in Jinguashi. Kinkaseki POW Camp has turned into a park: Taiwan POW Memorial and Peace Park. There are statues and a wall engraved with all the prisoners' names; at least 10% of them died here.
How to get there
The easiest way to get there, you can use the google map.However, if you live in Tapei, you can take MRT to zhongxiao fuxing station(exit 1) by Bannan line and look for the 1062 bus(Keelung bus) to get off at Jiufen Old Street or Jinguashi.
(3) Nanzilin Trail
Nanzilin Trail is an exclusive spot in our tour: Hidden Gems Around Taipei. The trail is not long (less than a kilometer) and the stairs are available all the way up. One thing you should be aware of is that there is no shadow, climbing up under the sunburst could be sweating a lot. On the top of the trail, you can see impeccable views of coastal Nanya Fishery Village and green mountains. If the weather is good enough, you can even overlook Nanya Rocks, Bitou Cape, Keelung Mountain, Keelung Islet, Yin Yang Sea and the striking coastline of Northern Taiwan.
How to get there
Taking the train from Taipei Station to Ruifang Station and transfer the Keelung Bus 886 to get off at Nanya Nanxin Temple.
(1) Pingxi Old Street
"Pingxi Sky Lantern Festival" has been held in Taiwan since 1999, rated as the "Second Largest Carnival in the World" by Discovery and being named one of the "10 Best Winter Trips" by National Geographic. The Pingxi Sky Lantern Festival is one of Taiwan's most famous festivals that truly attracts tourists from all over the world. Releasing sky lantern into the sky to wish for good luck and blessings, is the memory that most Taiwanese share. On top of that, those floating lanterns mark an unforgettable impression in both locals' and foreigners' minds.
This tradition has become notorious "environment killer". In the past few years, local has begun to guilt people into lighting up sky lanterns since the environmental controversy. (Read more: How Sky Lantern Involved in Eco-Conflicts & What Eco-Lantern Can Help) Nowadays, people tends to fly their sky lanterns in Shifen Old Street, an eco-friendly way to enjoy this activity is available here.
How to get there
Taking the train from Taipei Main Station to Ruifang Station, and transfer Ruifang to the Pingxi Branch Line. You will need to buy a one-day Pingxi Branch Rail Line pass (NT$54) to ride the line, and you can find it at Taipei or Ruifang station.
(2) Shifen
Located in the Pingxi area, Shifen Old Streets is a collection of lanes and alleys in and around the Shifen railway station area. Originally built for transporting coal during the Japanese era, the station and track runs straight through the village. "Train passing by doorways" is an interesting feature you will be experienced here. You can take the train from Shifen to Jinton to enjoy the scenic mountain view here as well.
Being near the Shifen Old Street, Shifen Waterfall is also a popular attraction that many tourists want to visit. It is a 40-meter high waterfall. So if you go to Shifen Waterfall in summer, you can feel the cool water and refreshing air in the mountains. The trail near Shifen Waterfall is also good for exploring. Walking in the forests, you may feel the relaxation and tranquility.
How to get there
Like Pingxi, you can use the one-day Pingxi Branch Rail Line pass to go Shifen Station.
Recommended Taipei day tour:
Jiufen & Pingxi Nostalgic Railway Private Day Tour
Classic Jiufen & Pingxi Old Streets Private Day Tour
Eco- Friendly Jiufen & Shifen Old Streets Private Day Tour5


13. Keelung Shore Excursion


Keelung is a cruise port in the northern part of Taiwan, only a few miles from Taipei. There is a Keelung landmark inspired by "The Hollywood Sign" and Keelung Miaokou Night Market is one of the best night market in Taiwan. Possessing the fascinating northern coast, there are so much to explore in Keelung! If you have been to every place in Taipei, you should have your Taipei day tour right here Keelung, which is less an hour drive from Taipei.
Keelung is always a model of "Revitalization" among all cities and counties in Taiwan. Chen-Pin Fishing Harbor, also known as "Venice of Taiwan", used to be the biggest fishing port in Taiwan during Japanese occupation. After the local fishing industry being subsided, some landscapes and culture still remain in place. The color on the old building are painted during 2016 to 2018, according to a project by government and local NGOs.
Keelung Night Market is located in the center of Keelung City. Keelung Night Market's full name is Keelung Miaokou Night Market, "Miaokou" in Madarin means "the doorway of the temple"; the origin of the night market has much to do with the Dianji Temple. In the early days, the gathering of the pilgrims brought some outdoor performers and entertainers performing near the temple as well. Then there are street vendors selling food and drink, attracting a large amount of traffic to this area; all of these factors contributed to the rise and prosperity of Keelung Night Market.
Keelung Night Market has its own characteristic snacks such as Nutritious Sandwich, Crab Thicken Soup, Ding Bian Cuo (potside scrapings) and bubble ice, not to mention my favorite: Original Flavor Pork Knuckle and Tanghulu (Sugar coated fruit stick). Many food experts praise Keelung Night Market as having "the largest variety of dishes in the whole of Taiwan", if you like Taiwanese night market culture, Keelung Night Market is the one you cannot miss!
How to get there
Taking the Taiwan railways from Taipei station to Keelung station by local train/fast local train, or you can take bus from the Kuo-Kuang Bus company just outside Taipei Main Station (台北車站), Exit East 3 (東3) is the quickest way to get to Keelung.
If you are arriving Keelung port for your first stop in Taiwan by cruise, there are so many choices for Keelung Shore Excursion that Justaiwantour can offer you:
Taipei Day Trips to the West
14. Bangka (Wanhua's old name)
The oldest Han Chinese settlement in what is today's Taipei City, and Wanhua District was Taipei's first district to undergo economic development, there are many old buildings and cultural sites. The temples in Bangka are historical relics that share a relationship with the Hokkien immigrants who came to Taiwan centuries ago. Wanhua is in fact the pronunciation of Bangka in Mandarin, and Bangka is named by the Japanese with the phonetic resemblance of former name in Taiwanese Hokkien.
In Longshan temple, you can see how religious power support people to achieve such great temple with exquisite craftsmanship. Decorations are widely used to worship the gods. The carving on the column is not only delicate but also meaningful-some of them represent the folk stories that tell people to be kind and merciful while some of them show the art of calligraphy. The sculptures on the roof are some imaginary creature which were considered to bring good luck and protect people in ancient China. With the tour guide, you will learn abundant knowledge about our culture.
There are several night markets here, and those are one of my favorite night market in Taipei. It's more like a local style instead of a tourists' night market, in here you can taste more specialties with a cheaper price.
Bopiliao Historical Block
The community of Bopiliao was firstly formed back in early Qing Dynasty. Since then, its history evolves as Taiwan went through different eras, from Qing Dynasty, Japanese colonization, to early Post World War II period. Situated in one of the most prosperous areas, Mengjia, architecture in Bopiliao reflects different culture of which it was built. The area is uniquely representative of once flourishing Mengjia.
How to get there
From Taipei Station, transfer Taipei MRT to Lungshan Temple Station or you can take TRA to Wanhua Station.
Recommended Taipei day tour:OH MY GOD! Pray for Wealth, Career, Health, Love, Academic, Peace
15. Dadaocheng
One hundred years ago, Dadaocheng is the most flourishing area in Taipei. In 1853, there was a battle between different group of immigrants in Bangka. The losers are forced to move to Dadaocheng. In 1860, Tamsui officially became an international port. From late 19th century to mid-20th century, the development of Dadaocheng was thriving. Because of the locational advantage, Dadaocheng attracted people to start trading business and soon evolved into the economic center of Taipei, including tea, Chinese medicine, clothes, and dried foods.
In 1885, the governors set up foreign consulates and set Dadaocheng as a foreign residence area. The aliens brought in new cultures and rendered Dadaocheng with an exotic style, so you can see the buildings with baroque façade as well as traditional Hokkien townhouse.
The main deity of the temple is Chenghuang God, who is in charge of guarding the city. However, most people come to this temple to pray to the love god, the old man under the moon. It's said that a lot of people meet their true love after praying. There are numerous wedding cakes contributed by the newlyweds.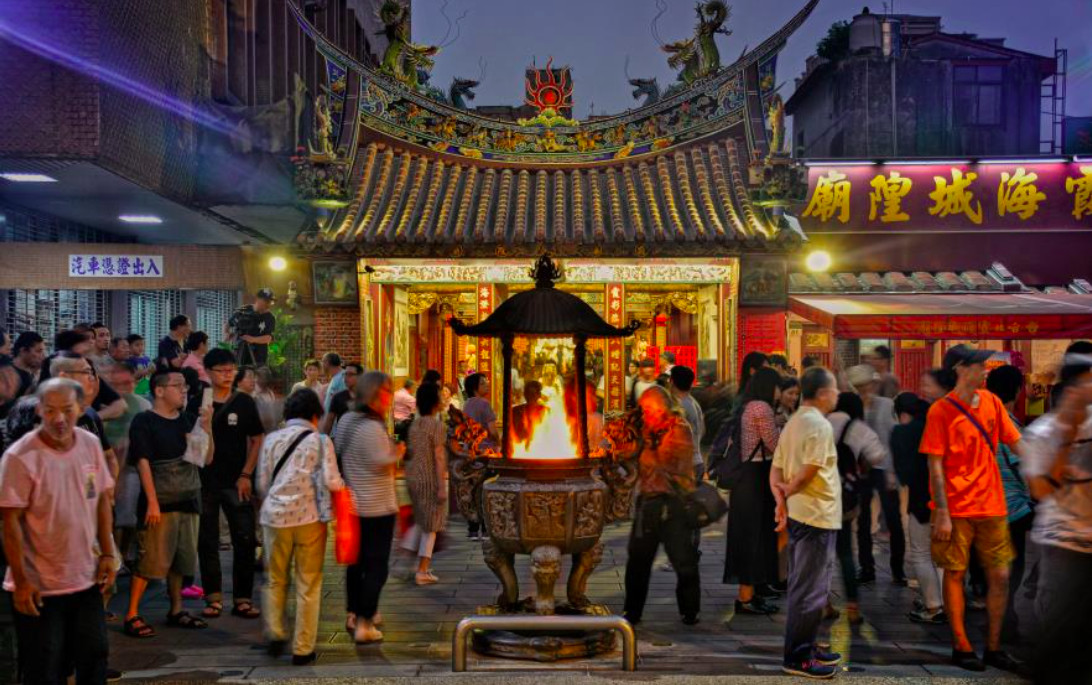 Grandma's kitchen is a 160 years old grocery store which sells bamboo products. From 1960's to 1970's, there was a brilliant era of bamboo industry. Though bamboo products are now replaced with plastics, grandma still insist on making bamboo made groceries with high quality since Qing dynasty. Grandma's kitchen is somewhere you can find new inspiration for your home decoration.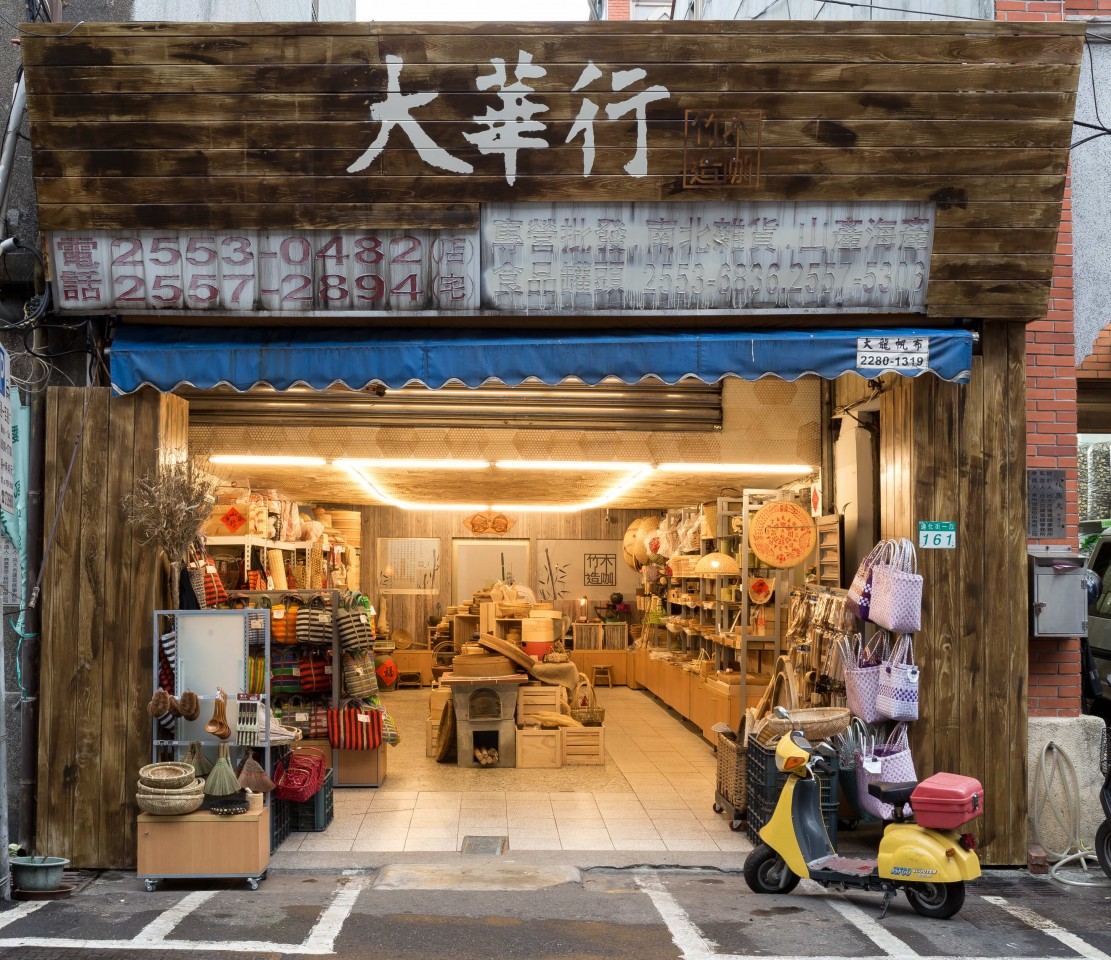 Located at No. 207, Section 1, Dihua Street, Taipei, the museum was a house built in 1962, and was turned into a museum in 2017. The decoration represents the aesthetic of Taiwanese craftsmanship. If you come to visit this old belle, remember to look down at your feet. The floor is decorated with patterned grindstones. The exhibition of the museum shows the furniture and utensils of different time era. The view on the 3rd floor is superb, you can have a cup of coffee and appreciate the street view and the old –fashioned vibe.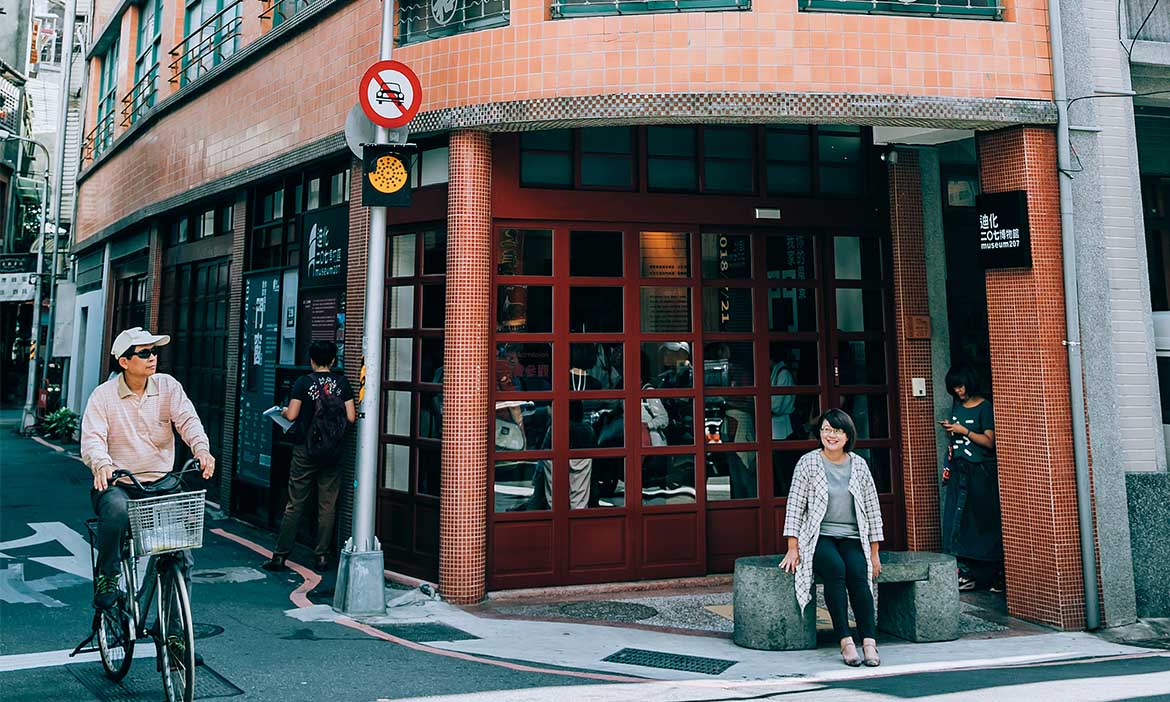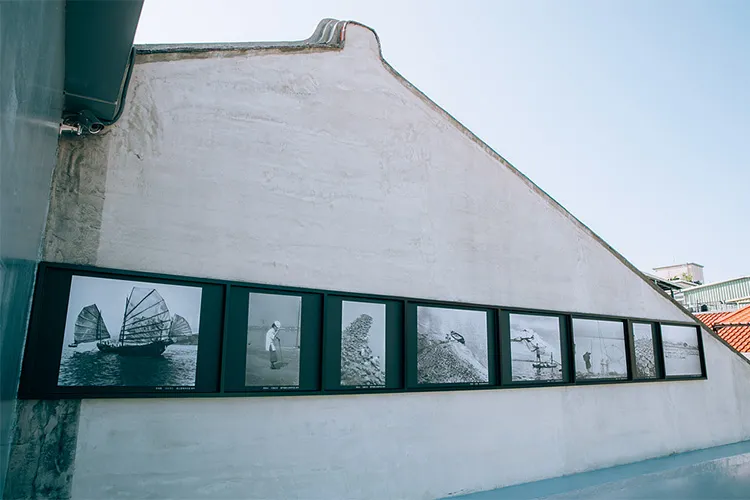 How to get there
You can take MRT to Beimen station exit 3 by green line (10 minutes) . or to Daqiaotou Station exit 1 by orange line.

16. Taipei Zoo
The Taipei Zoo is one of the ten largest municipal zoos in the world and the largest in Southeast Asia. If you have kids travel with you, this place is a good place to go. As the zoo is home to more than 400 animal species, you can easily have fun here.
How to get there
Taking the MRT to Muzha Line southbound all the way to the terminal station.
17. Wulai
Wulai is a famous mountain village in northern Taiwan and is the closest aboriginal village to Taipei. Most the residents are aboriginal people (Atayal Tribe), so if you are interest in native cultures, Wulai is it.
Besides the Beautiful scenery ,you can come here for hot spring or ride the Wulai scenic train, which is near by the Wulai falls.
How to get there
Taking the MRT to Xindian station by green line and transfer the bus 849 (departing every 10-15 minutes) from outside of the station, and get off at the final stop.
18. Pinglin
Pinglin is in a valley of the Snow Mountain Range. Before the National Freeway was built, people travel from Taipei to Yilan through Pinglin. Surrounded by mountains, the town is moist all year round. Because of the terrain, and the northeastern descent phenomenon caused by the northeastern monsoon, the land is home to a lot of species. The Feitsui Reservoir is just located in Pinglin. In other words, it's a water conservation area. It may seem that the development of Pinglin has fallen behind other towns for 30 years. However, ecological conservation has made a great process over the past 30 years.
Every year since the last third of March, it's the season of fireflies. There are thousands of fireflies do their matching dance in the forest. People can spot fireflies where there's no light, from day to night.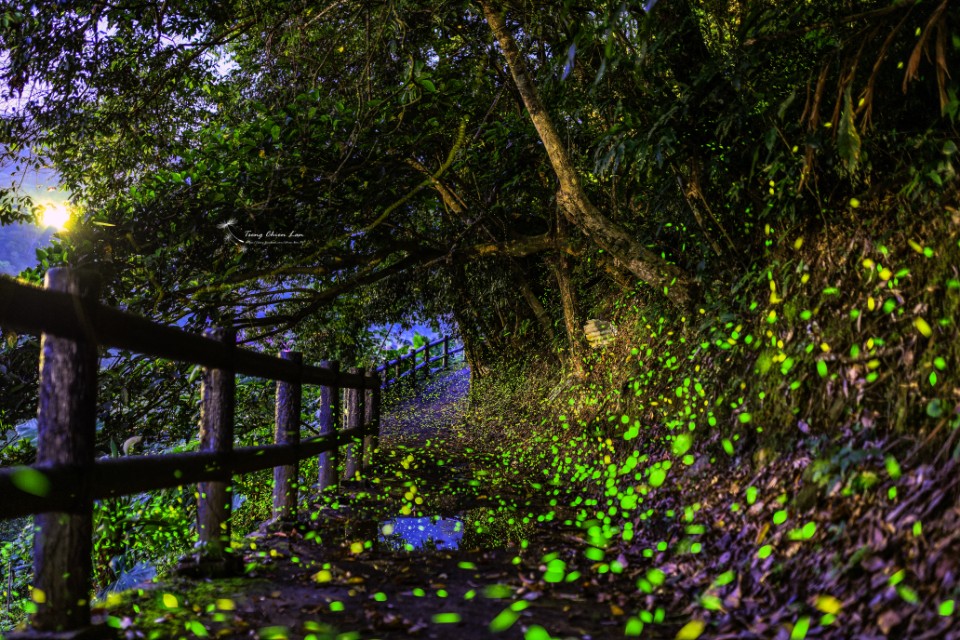 Fish & Fern Trail is only 1.2km long. It takes no more than 30 minutes to finish the trail, but there are more than 100 ferns on the way for you to identify. It has the highest diversity and density of ferns in Taiwan. The ferns that fall into your sight are relict plants, they have thrived on earth for more than hundreds of millions of years. You can imagine yourself being in a Jurassic jungle. The trail gently winds in the mountain. You can have an entertaining and educational family tour with your kids.
Unlike some over-commercialized old streets, Pinglin Old Street still keeps a leisure pace. On the 200 meters long street, there are two houses more than 140 years old. The house was made from the stone of Beishi creek.
One of the famous food in the old street will be the tea eggs, made by black tea.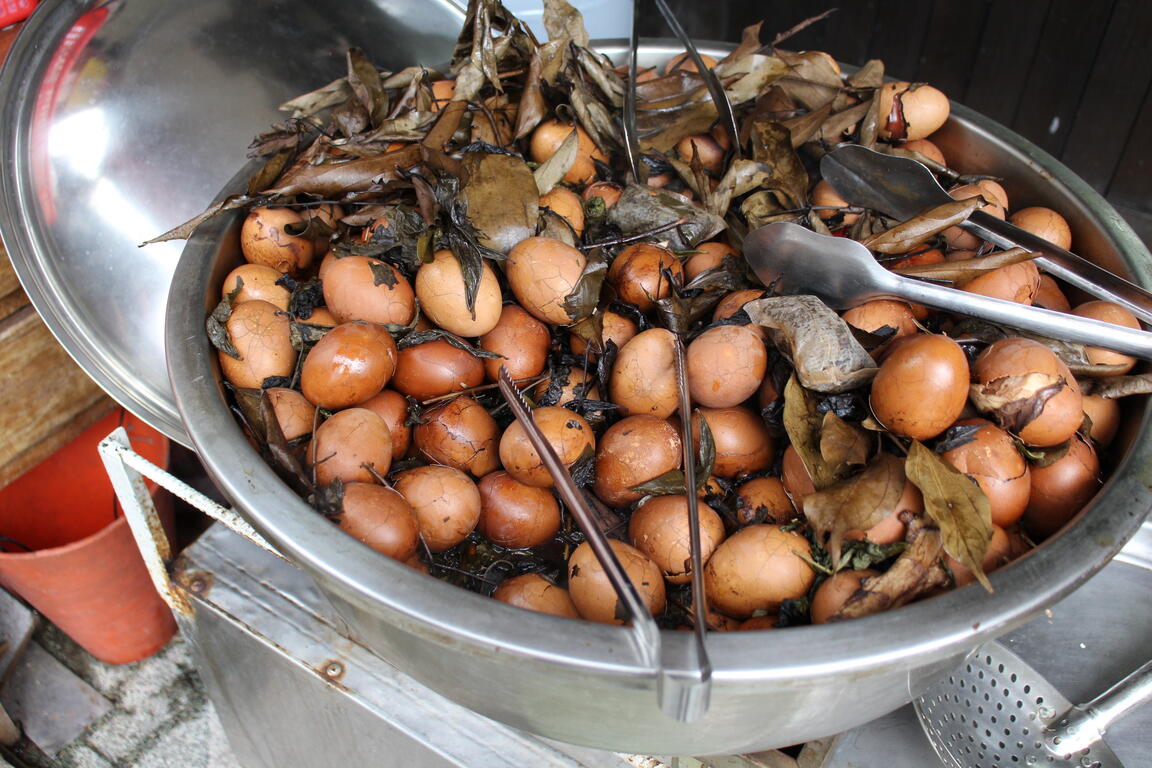 How to get there
Taking the MRT to Xindian station by green line and take the Xindian bus 923 to Pinglin.
19. Yingge
If you want to know the culture of the ceramics in Taiwan, Yingge is well known place to go. Yingge old street is filled with pottery and porcelain related crafts and works, thick in cultural arts. You can experience the fun of pottery making here also taste the delicious food in surroundings.
How to get there
Taking the train from Taipei main station to Yingge station. After you exit the train station, turn right and walk along Wenhua road about five minutes.
20. Fulong Beach
If you are in Taipei Taiwan on Summer, then you can go to the Fulong beach in New Taipei city. Fulong Beach was famous during the Japanese occupation of Taiwan. It faces the Pacific Ocean and has special golden sand. It is the most famous beach in northern Taiwan, just as Kenting is the most famous beach in southern Taiwan. You can have a fun day here by having the surfing, sliding, and sailing.
If you are lucky, you may meet the sand Sculpture Art Festival in Fulong Beach.
How to get there
Taking train from Taipei main station to Fulong Station.
How to get to Taipei City from the airports?
From Taoyuan International Airport (TPE) to Taipei City Centre
Taoyuan International Airport (TPE) is actually in the city of Taoyuan, not Taipei. Just like Paris Charles de Gaulle Airport is actually not in Paris but locates in Roissy-en-France.
1 Airport MRT
By the airport MRT, you can reach several main stations such as Taipei Main Station, Sanchong Station, New Taipei Industrial Park, and Taoyuan HSR Station. If you want to now further how you can take Taipei MRT, please visit here.
| | |
| --- | --- |
| Station | Transfer to |
| Taipei Main Station | MRT Red Line (Tamsui-Xinyi Line)MRT Blue Line (Bannan Line)MRT Green Line (Songshan-Xindian Line)Taiwan High-Speed Railway (THSR)Taiwan Railway |
| Sanchong Station | MRT Orange Line (Zhonghe-Xinlu Line) |
| New Taipei Industrial Park | MRT Circular Line |
| Taoyuan HSR Station | Taiwan High Speed Railway (THSR) |
For details like the timetable, you can go to the official website of Taoyuan International Airport.
2. Shuttle bus
Before Airport MRT was constructed, the shuttle bus is the most convenient way to get to your destination. If you are not heading to Taipei, the shuttle bus might be your best choice. There are buses to Taipei, Banqiao, Xindian, Taoyuan, Zhongli, Zhongli Transit Station, Taichung, Yilan Transfer Station, and Hsinchu.
Destination
Taipei
1819 to Taipei Main Station
1819A to Taipei Main Station (via MRT Yuanshan Station)
1840 to Songshan Airport
1843 to Nangang Exhibition Center
1841 to Songshan Airport
5201 Bus
1960 East Bus
1961 West Bus
Banqiao
1962 Bus
Xindian
1968 Bus
Taoyuan
5059 Bus
Zhongli
5089 Bus
Zhongli Transit Station
1627 Bus
Taichung
1860 Bus1623 Bus
Yilan Transfer Station
1661 to Yilan Transfer Station
Hsinchu
3. Taxi
You can easily grab a taxi at the west side (meeting point 26) of the Terminal 1's and Terminal 2's Arrivals Lobby, since its a 24 hours-service. Even though it is uncommon, but if you want to avoid being ripped off by the greedy driver, you can book Airport Pick Up private transfer by Justaiwantour.

How to travel around Taipei?
Taipei Metro: With 131 stations on 6 lines, Taipei Metro can take you to almost everywhere in Taipei.
Youbike: Riding a bike is also a good way to explore the city. There are 400 Youbike stations in Taipei Metropolis. You can always come across them unexpectedly.
Restaurant in Taipei
Da Wan BBQ
For Japanese barbecue, head over to Da Wan BBQ. This restaurant is famous for a Japanese cooking style called Yakiniku, a term meaning grilled meat, and is a must for anyone visiting Taipei
Ay-Chung Flour Rice Noodles
The restaurant is legendary for its single menu item, soft rice noodles served in a thick, flavorful gravy. The famous dish comes in two sizes and can be topped with chili sauce, vinegar, and/or and garlic.
Big Tea Pot Tea House
For some peace and quiet, as well as outstanding panoramic views of Maokong Mountain, head over to Big Tea Pot Tea House. Nestled against the mountainside, this popular tea house offers Taiwanese-style dishes, as well as a variety of hot teas.
The Kitchen Table
For anyone who can't decide on what to eat for dinner, the international variety offered by The Kitchen Table is the perfect solution. This restaurant offers an expansive selection, with a full breakfast buffet in the morning, a light lunch buffet with colorful desserts in the afternoon, and a more hearty dinner buffet in the evening.
Yongkang Beef Noodle
Yongkang Beef Noodle is a quaint, family-run restaurant that has been around since 1963 and is known for serving some of the best beef noodle soup in Taipei. Though the shop originated as a modest food stall, it has grown to become a favorite destination for locals and tourists alike.
For more restaurants in Taipei, you can take our previous articles for reference.
Read More:【Taiwan Food Tour】Where to eat in Taipei & Taichung? – 2020 Michelin Gourmand Selection
Read More:【Taiwan Food Tour】Where to eat in Taipei & Taichung? – 2020 Michelin Bib Gourmand Selection
Best Night market in Taipei
Shilin Night Market(士林夜市)
No. 101, Jihe Rd., Shilin Dist., Taipei City
-MRT Jiantan station Exit via 1, walk along Jihe Road(基河路) 200 meters to the destination.
Being one of the largest night markets near MRT Jiantan station, you can enjoy famous street snacks both in the Shilin Night Market Food Court and the street market. There are Oyster omelets, stinky tofu, traditional sausage, and grilled-fried chicken with a unique sauce you can savor. After eating snacks, give the Aiyu jelly, bubble milk tea, and Tofu pudding (豆花Douhua) a try if you are thirsty. There are watermelon juice, papaya milk, and guava juice in the fruit stall. The fruit stalls also provide sliced dragon fruits, rose apple, and custard apple which is rarely seen outside tropical countries.
There are street games like mahjong(麻將) bingo, circle throwing, and ping pong throwing. Try to think like a gambler, and win the mahjong bingo. You can also win the dolls by the dart. For the old-fashioned guys, there's also a nostalgic retro pinball machine for you to win the ticket. Then you can get candy or toys by ticket.
Linjiang Street /Tonghua Night Market(臨江街/通化夜市)
Linjiang St., Da'an Dist., Taipei City
-MRT XinyiAnhe station Exit via 3, head south on Tongan Road(通安路), and turn left onto linjiang Street(臨江街)
Located in the residential district of Da'an district, this is a lesser-known local night market with a variety of food. There are some traditional snacks like Candied Strawberries (糖葫蘆Tanghulu), and buns with minced pork and vegetables. For the sweet teeth, you can try the hot Tangyuan(湯圓) on the shaved ice which was selected by the new Bib Gourmand street food in 2019. The sesame rice ball with sweet fermented rice and Osmanthus honey is on top of the shaved ice. You won't forget the particular aroma after the trip to Taiwan.
The tasty and unique roasted corn with a coating is also a good choice. You can smell the grilled corn from three stalls away. The soft texture of the roasted crust outside will amaze you. More than snacks, you can find clothes and shoes here. Because Linjiang Street/Tonghua Night Market is in the center of Taipei, you can also visit here after shopping in the Xinyi District.
Ningxia Night Market(寧夏夜市)
Ningxia Rd., Datong Dist., Taipei City
MRT Shuanglian station Exit via 1, go along Minsheng West Road(民生西路) and turn left onto Ningxia Road
Located in the old town district in Taipei, Ningxia Night Market has a long history. Sweet potato balls are highly recommended for tourists who go to Taiwan for the first time. You'll be amazed at the al dente taste inside the stir-fried balls and the crispy surface. The pepper pot prawns and the salted goose are for those who want to eat meals. Heavy tasters must fall in love with the fresh pepper pot prawns with strong flavors. You can also chew goose in different ways like the sliced smoked meat or try the hot soup.
Shredded chicken on the rice is also on the list of Michelin Guide Taipei 2019 Bib Gourmand selection. You'll be surprised by the depth of the mixture between salty soy sauce, chicken, and rice. For the Epicure who is into both salt and sweet flavors, you can try a special fried taro ball. It is only a stall that sells deep-fried taro balls. The various texture of salted egg yolk and soft sweet taro skin is astonishing.
Hidden gems to explore:
Yansan Night Market(延三夜市)
Section 3, Yanping North Road, Datong District, Taipei City
MRT Daqiaotou Station Exit Via 1A, go along Minquan West Road and turn right to Section 3, Yamping North Road
Keywords: South-Taiwan flavor, mochi ice, fried noodles, and thick stir-fried squid soup
South Airport Night Market(南機場夜市)
Lane 307, Section 2, Zhonghua Rd, Zhongzheng District, Taipei City
Take the bus to Nanjichang Apartment, walk along Section 2 Zhonghua Road, and turn right onto Lane 307
Keywords: Monga (Wanhua District), dumplings, hot and sour soup, and sesame oil chicken
FAQs about Taipei City
What top attractions are a must-see in Taipei City?
Taipei 101
Chiang Kai-shek Memorial Hall
Bopiliao Old Street and Longshan Temple
Shilin Night market
Yangmingshan
Tamsui
Dadaocheng
National Palace Museum
Huashan 1914 Creative Park
Is Taipei worth visiting?
Taipei is worth visiting for its diverse attractions. You can enjoy shopping, nature, and culture all in Taipei. Being the modern city between the Chinese and Western cultures, you can visit both Longshan Temple and temples in Taipei. And the natural scenery is worth seeing in Yangmingshan, Wulai, and Pinglin for the mountains. Furthermore, there are also many fantastic traditional cuisines like braised pork rice, beef noodles, hot pots, and Gua bao (刈包). The convenience store and the affordable eating are also the reasons why tourists choose Taiwan as their destination.
Is Taipei safe?
Taipei is relatively safer than many cities. You can walk to the night market and find something to eat without worries at midnight in Taipei. When you take the metro in Taipei, the possibility of being robbed is relatively low. And you can also enjoy jogging at the river bank at night in Taipei.
Is it easy to get around in Taipei?
It will be easy to get around Taipei with Easy Card. You can pay with Easy Card on Taipei Metro, Ubike, bus, local train, and Maokong Gondola. The Taipei Metro can take you to the main lines of Taipei. With buses, there are almost everywhere you can get to in Taipei. For the Taipei walker in fewer days, you can choose Metro Pass or Easy Card Pass.
When are the best months to visit Taipei?
Taiwan is a subtropical island with a year-round spring-like climate, and each season has its unique charm and features. However, if you have to pick the best time to visit Taiwan, spring is the most suitable season. From March to May, The weather is pleasant with occasional rain, making it a great season for flower viewing.During this time, the average temperatures are at a bearable 22°C. Taiwan's cherry blossoms, plum blossoms, and magnolias are all beautiful spring scenery. This is the best time to enjoy Taipei's outdoor activities such as hiking, countryside excursions, and whale watching. If you're planning a trip to Taiwan, consider visiting during the spring season to make the most of your experience.
Summary of Taipei Day Tour
Go to the top of Taipei 101, eat soup dumplings in Din Tai Fung(鼎泰豐), and enjoy the Dihua Old Street(迪化街) culture.
Recommended Taipei day tour: Taipei Must-visit Spots Private Day Tour
Savor the street snack in Shilin Night Market, hike in Yangmingshan, and soaked in the Beitou hot spring.
See the Jadeite Cabbage in National Palace Museum, relish the drama in National Theater & Concert Hall(Chaing Kai-shek Memorial Hall), and watch art films in Huashan 1914 Creative Park.
Enjoy the tea in Maokong, eat taro balls in Jiufen(九份), seek cats in Houtong(猴硐貓村), taste fresh seafood in Keelung, visit Snake Alley in Huaxi Street Night Market(華西街夜市).